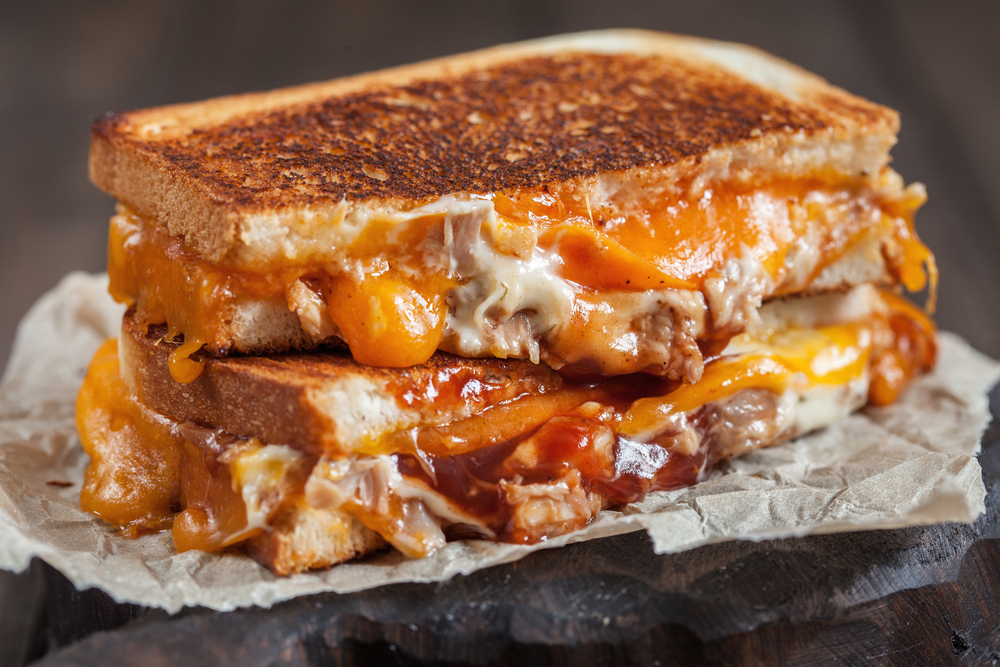 One grilled cheese is just as good as any other grilled cheese, right? If you are of the belief that a grilled cheese is simply bread + cheese, and there's not much room for improvement, think again. Now think again AGAIN.
Consider these two primary elements and just how much variety, cultural specialty, and abundance of each are out in the world. If your mind isn't already boggling, it's about to.
Bread
The smell of fresh baked bread is enough to send our salivary glands into overdrive. For 30,000 years, humans have been making and consuming bread in one form or another. Just about every culture on the planet makes their own bread, and they don't just make one type of bread – they make an assortment of bread. For example, France, a country that prides itself on its bread creation, boasts well over 100 popular bread types. Yes, those are just the "popular" ones.
Cheese
Everyone's reason for not going vegan, cheese is beloved the world over. From smelly and delicious cheeses like Gorgonzola to good old fashioned (but extremely new in terms of cheese history) American cheese, there is a cheese for everyone to love. The "cheese database," an online cheese catalog, boasts a constantly updating list of nearly 1,800 cheese types from every corner of the globe.
Are you starting to see a little forest beyond those two bread + cheese trees?
You're about to see a whole lot more on the grilled cheese horizon, so get ready to master the art of the grilled cheese and become a pro at making this simple dish into something truly spectacular.
First, let's define what a grilled cheese is. According to Serious Eats, "A grilled cheese must...
• be a closed sandwich, griddled on both sides.
• have cheese as the primary ingredient. Other ingredients can complement the cheese, but none may overwhelm it.
• be made with sliced bread. Thus, a sandwich made with a whole, crust-on loaf, like a panino or a Cubano, does not qualify.
• be served hot all the way through, with the cheese thoroughly melted.
• be cooked on a flat, greased surface until golden brown. In extreme circumstances, it may be cooked on an outdoor grill over an open fire. A grilled cheese may never be baked or deep-fried."
Choosing Your Bread
Breads come in so many variations that it can be hard to narrow down the options when it comes to creating a grilled cheese sandwich worthy of announcing to the world. Since cheese is just as culturally significant as bread is regionally significant, it is a good idea to start your bread search by choosing a country of origin. A French bread will likely pair well with a French cheese, just as a German bread will pair well with a German cheese. That said, experimentation is the name of the game with grilled cheese, so be open to mixing and matching until you find the combo that transforms your world.
Some favorite bread from around the world that you can make grilled cheese with include:
• American – Texas Toast, Pullman loaf, cornbread, white bread
• French – Brioche, baguette, boule, rye, pain de mie
• German – Pumpernickel, pretzel, brown, seed bread
• Italian – Focaccia, ciabatta, coppia, fat bread (sometimes called lard bread or prosciutto cotto)
• UK – Cottage loaf, pan loaf, manchet, barley bread
• Potato Bread is found in numerous variations in Chile, Germany, Hungary, Ireland, Peru, Poland, Scotland, and the U.S., so it is not placed in a specific country or region
These are all sliceable, delicious, and nutritious bread choices to start you on your grilled cheese journey. The Italian fat bread may be the least healthy option, but it has cheese and ham baked right into it, making it a serious contender in the grilled cheese championships.
Choosing Your Cheese
Cheese preferences are just about as personal as it gets. Everyone has a favorite "desert island" cheese they simply cannot do without in their lives, but don't let your personal favorite keep you from experimenting all the cheese. All of it.
Grilled cheese cheeses that MUST be tried include:
• Brie
• Cheddar
• Gouda
• Blue Cheese
• Harvati
• Muenster
• Swiss
• Provolone
• Goat Cheese
• Fontina
• Machengo
• Gruyere
Now that you have your bread + cheese, it's time to get creative with your additions.
Too-good-to-be-true veggies include:
• Broccoli-rabe (sauteed)
• Cucumbers
• Brussels sprouts
• Hot peppers
• Pickles
• Grilled, caramelized, and braised onions
• Spinach
• Kale
• Sourkraut
• Mushrooms
• Artichoke hearts
Fruit is ABSOLUTELY GLORIOUS in a grilled cheese. Try these:
• Apples
• Mango
• Tomatoes
• Blackberries
• Strawberries
• Cherries
• Pineapple
• Avocado
• Olives
• Figs
• Pears
Meat is a no-brainer in a grilled cheese. Put these meats on your grilled cheese:
• Buffalo chicken
• Crab
• Bacon
• Steak
• Sweet pulled pork
• Bacon
• Prosciutto
• Mortadella
• Bacon
• Pastrami
• Roast Beef
• Bacon
No professional-grade grilled cheese goes without a spread. Spread these delicious things on your grilled cheese:
• Pesto
• Nutella
• Olive paste
• Sriracha
• Chutney
• Balsamic vinegar glaze
• Guacamole
• Fig jam
• Wing sauce
• Relish
• Grain mustard
• Garlic mayonnaise
Other additions to add:
• Potato chips
• Macaroni and cheese (you read that right)
• Pretzels
• Fresh herbs
• Hot dogs
• Cajun seasoning
• Cream cheese
• Hard boiled or fried egg
• Candied walnuts, pecans, or pepitas
• Tomato sauce
(If you're interested, my favorite grilled cheese is a brioche bread and brie sandwich with brown-sugared and thinly sliced apples, caramelized onions, and balsamic glaze.)
As you prepare your sandwich, heat your pan or, preferably, griddle. Sandwich in hand, generously butter both sides of your bread and grill in the pan until browned and all cheese is melted. Slice it in half so you can watch the cheese drip out a bit before you devour your sandwich so you can take pride in a job well done. Enjoy!