Tucson Chocolate Lovers Adore In Home Truffle Parties
Tucson Chocolate Lovers Adore In Home Truffle Parties
Bring Your Best Friends Together for a Day of Playing With Chocolate at a Truffle Party With Tucson Personal Chef Maggie!
Let's face it ...
Let's face it. Life gets busy and finding time to see your friends is not always easy. Schedules are packed and commitments seem to outweigh the time you have for fun. If this has happened to you and you want an excuse to get your friends together, throw the party of the year with help from a Tucson personal chef!
Chocolate truffle parties offer a great excuse to bring together your closest friends for relaxed, in-home fun. Chef Maggie lets you in on her secrets for yummy desert making by giving you and your friends a hands-on lesson in how to chop, melt, roll and decorate chocolate truffles.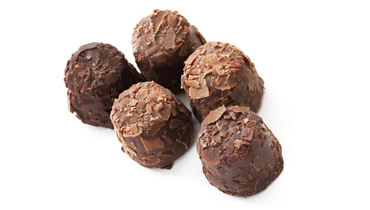 Host the party everyone will talk about for years to come!
You want to host a party, but finding the time to do all of the planning and preparation may just seem too difficult. With the help of Chef Maggie, all you have to do is pick the date and invite your closest friends.
My friends and I participated in a wonderful and fun Truffle Party with Chef Maggie.  It was a great ladies night in!  Not only did we learn how to make truffles from scratch, but we got to take home A LOT of delicious chocolate!  I would definitely recommend having a truffle party with your friends. - Amy
When the day of the party arrives, you and your friends will be treated to a unique experience in the kitchen. While you catch up on your lives, Chef Maggie will instruct you on how to create decadent deserts. The best part? Each guest gets to take home their chocolate truffles to enjoy even after the party is over.