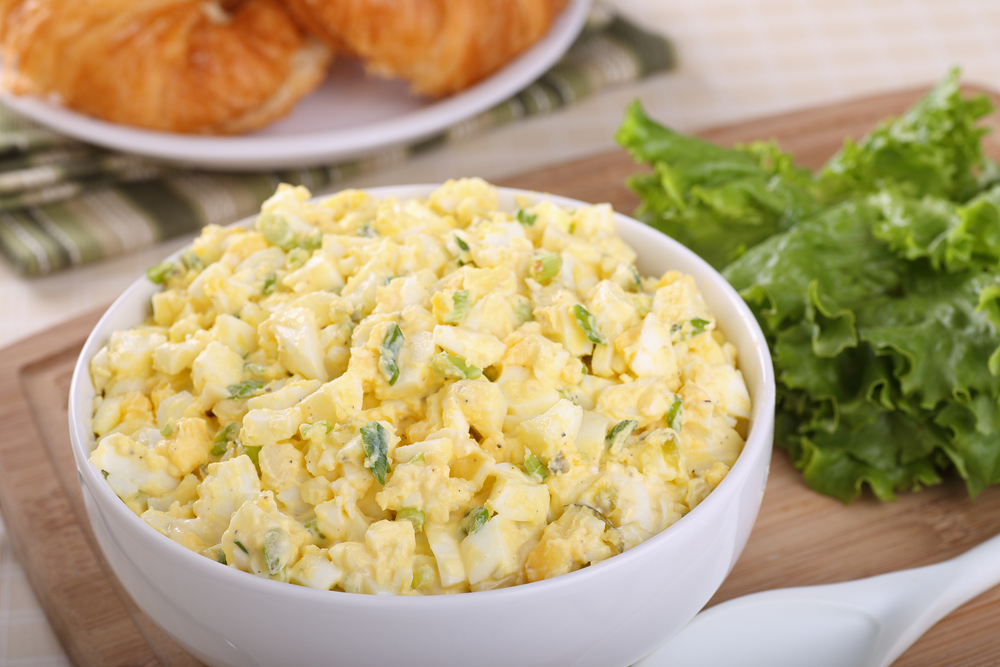 Egg salad is delicious and an awesome option for busy days when packing a lunch is your best bet. Unfortunately, as anyone who's ever made traditional egg salad knows, this tasty dish is also absolutely loaded with mayonnaise.
Seeing as how mayo isn't exactly the healthiest thing to consume in mass quantities, it's imperative that egg salad lovers who are looking to stick to a healthy diet find some sort of acceptable substitute.
Luckily, there are actually several healthier egg salad recipes out there, and most taste just as good as the traditional kind. For this reason, I see absolutely no reason why everyone shouldn't give one of these healthier egg salad recipes a try.
#1: Healthy Egg Salad with Greek Yogurt and Dill — Well Plated
One of the most popular ways to make egg salad without all the added fat mayo brings along with it is by using Greek yogurt as the creamy base. This recipe does just that and throws in some dill and Dijon mustard for added flavor. We think this is the perfect recipe for anyone who wants to stick as close to the classic taste as possible.
#2: Avocado Egg Salad — Happy Healthy Mama
Avocado is a truly remarkable food. It's absolutely packed with nutrients, including some healthy fats that are often hard to come by. For this reason, it just makes sense to throw some avocado into your egg salad.
For that matter, why not use this delicious ingredient as your base? Smashed avocado gives just the right texture, and this recipe tells you just how to go about incorporating it.
#3: Healthier Egg Salad — Lauren's Latest
If Greek yogurt is a bit too tangy and green egg salad isn't really your thing, you might appreciate this version of egg salad which uses sour cream as its base. Lauren of Lauren's Latest really knows how to mix up a mean egg salad, and she'll teach you how to as well with her original recipe.
#4: Healthy Egg Salad (That Actually Tastes Amazing) — Clean Cuisine
Of course, if you don't hate anything about mayo in and of itself, but you still don't like the thought of the store-bought stuff, you could always make your own. Clean Cuisine gives an awesome homemade mayo recipe that's not nearly as bad for you.
When making their egg salad, you have the option to use this homemade mayo or hummus as your base; both sound quite tasty if you ask me.
#5: Loaded Low-Fat Egg Salad — The Harvest Kitchen
Adding veggies to your egg salad is a great way to ensure you can eat as much as you want without consuming an excess of calories. This loaded egg salad incorporates a wide range of vegetables for a low-calorie-per-serving meal with a nice crunch.
#6: Healthy Egg Salad Sandwich — Genius Kitchen
This final recipe skips the creamy base entirely and uses a larger amount of dijon mustard in place of the typical mayo. While this does result in a spicier salad, many people prefer the kick it gives. Additionally, dijon mustard has far fewer calories than mayonnaise, making this a great diet option.
With these 6 fantastic egg salad recipes, you won't have any shortage of amazing lunch options in the coming weeks. Try them all, find the one you like best, and tweak it to suit your needs. You may just find your new favorite meal!