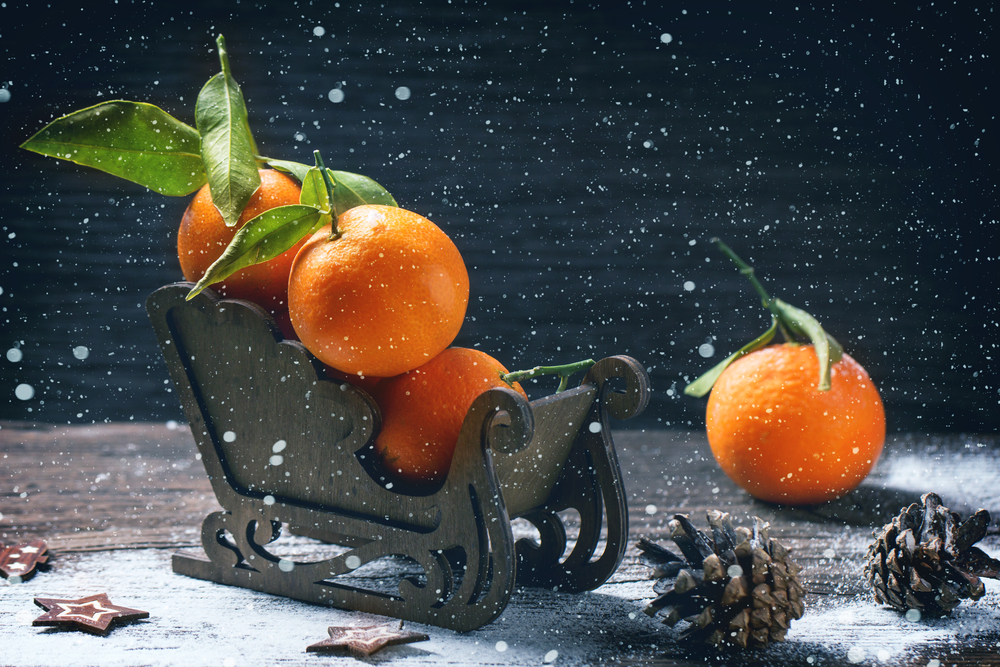 Oh, the weather outside is frightful (I may be exaggerating if you're reading this in Tucson), but that doesn't mean that there are not a ton of delicious fruits and vegetables to get excited about during the long winter months. And all that good, seasonal food translates into so many delicious dishes that you'll look forward to the winter year after year just so you can indulge in these seasonal treats.
Choosing to eat seasonally has a lot of benefits to you and your community, including adding a wider variety of foods in your diet, lowering your fresh food costs, and supporting your community farmers and growers.
Incorporating these three delicious and nutritious fruits and vegetables into your meal planning this year will make you happy, healthy, and full of seasonal goodness all winter long.
Citrus Fruits
Yes, citrus fruits are in season! Though it seems like citrus fruits are a summertime treat, they are perfectly adapted to ripen to juicy perfection during the winter. Mandarin oranges, tangerines, grapefruits, lemons, limes, and clementines are all ready to be eaten right now, and there are so many ways to enjoy citrus fruits and preserve them for eating throughout the year.
Citrus fruits are ideal selections for marmalades and jellies, and learning to can or jar enough of the homemade stuff to keep your pantry full of delicious toast and muffin spreads to get you through next winter.
Load up your lunch salads with oranges, tangerines, and clementines for a bright-flavored salad full of vitamin C.
Want something warm and citrus-filled on winter mornings? Lemon, lime, or grapefruit sticky buns with cream cheese frosting will be a new family favorite.
Sweet Potatoes
We look forward to sweet potatoes all year long, though too many of us only associate Thanksgiving and Christmas, and that's probably because these tubers are loaded to the gills with sugar and marshmallows.
Sweet potatoes are incredibly versatile, full of vitamins A, C, and B6, beta-carotene, potassium, dietary fiber, and manganese, plus, they have nearly no saturated fat or sodium and they can even lower cholesterol. Sweet potatoes are also very filling, making them a smart choice for filling meals that are also healthy.
You can prepare sweet potatoes by boiling them, baking them, steaming them, or frying them, and the best news of all is that sweet potatoes lend themselves to multicultural dishes, so you never have to eat this delicious root vegetable the same way twice in one season.
Try a curried sweet potato soup or Indian sweet potato patties full of ginger, cilantro, and masala.
Grilled sweet potato and black bean tacos will change the way you think of tacos forever, and they taste great with lots of soft cheeses like goat cheese and feta.
Sweet potatoes are adaptable, and that means that you can turn them into sweet or savory biscuits, croquettes, and scones.
Cauliflower
Pop culture makes cauliflower the stinky side dish that no one wants to eat, but in reality, cauliflower is a delicious, nutritious, and easy to transform into a whole lot of dishes that are perfectly-suited for winter feasting.
To start, cauliflower is one of the more unassuming vitamin and mineral packed vegetables to ever hit your table. One single serving of cauliflower yields 77% of your daily vitamin C needs, is a great source of protein, has vitamin K, thiamin, magnesium, fiber, vitamin B6, potassium, riboflavin, manganese, folate, niacin, phosphorus, and pantothenic acid (vitamin B5), which breaks down fats and carbohydrates and helps manufacture red blood cells.
Roasted cauliflower with a spritz of lemon is crispy and meaty and can be used as meat replacer in many traditionally meat-centric meals like casseroles, tacos, and spaghetti and (cauliflower) meatballs.
Cauliflower transforms into a near-rice dish with just a quick steam and a toss in the blender or food processor, and that means that you can substitute cauliflower rice for the higher-carb white rice and still churn out some great dishes including fried rice, rice and beans, and even sushi.
Cauliflower is used to reinvigorate lots of traditional recipes including bagels, pizza crusts, breadsticks, macaroni and cheese, and mashed potatoes, and lessen the fat and caloric content of them while packing your food with necessary vitamins to boot.