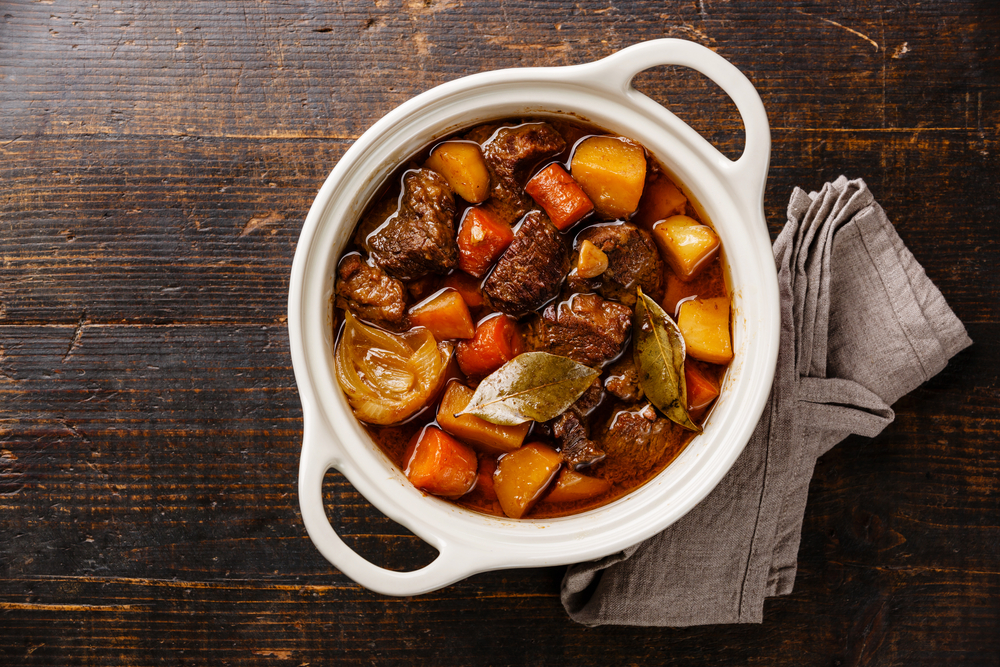 Is it really winter without stew? Hearty, warm, and comforting, this flavorful bowl is a delicious meal throughout the cold months of the year. While most people confuse the terms "stew" and "soup," a stew is categorized by the thickness and the more time spent cooking in a covered pot. Soups often have more liquid and cook up quickly.
If you're looking for a cozy food for your chilly nights, a hearty stew is a perfect option. Not only is it filling, but it's rich in many nutrients that your body needs. Of course, you can always choose to pair your stew with a slice of artisan bread or leafy side salad. Here are a few stews you should take the time to explore.
Jack's Brunswick Stew
A meaty stew that incorporates Southern roots with a barbeque-inspired flavor sticks to the ribs. This stew challenges the idea that only one type of meat should be used, and it combines pork roast, chicken, and beef chuck roast. Red potatoes act as the thickener while a Vidalia onion brings in layers of sweetness.
Leftover Baked Potato Soup
Leftover baked potatoes are the foundation of this creamy, thick soup. Diced leeks, garlic, and butter bring the savory elements, while sour cream and buttermilk up the smoothness. A bit of sherry vinegar adds pizzazz into this wonderful winter classic.
Beef Bourguignon
This mouthwateringly good stew begins with a night-long marinade of beef in a combination of red wine, garlic, carrots, and bay leaves. The marinade sets the tone for the flavor of the stew. While this stew is a bit more intensive with a series of steps, your first spoonful will be sure to have you begging for more.
Lamb Stew with Root Vegetables
Originating from the classic French stew, navarin d'agneau, this recipe highlights some of the delicious root vegetables that are more winter seasonal such as parsnips. In batches, cubes of lamb are browned in the casserole dish before all wine, vinegar, and stock are added. The stew is then cooked in the oven before the root vegetables are added. This slow cooked meal has amazing flavors and is perfect for meal prep.
Hunter's Sausage-and-Sauerkraut Stew
A Polish classic, this hunter's stew combines three different types of meat and simmers with sauerkraut as well. Traditional meats tend to be pork ribs, sausages, and veal. However, smoked bacon, chicken thighs, and kielbasa still offer the same savory elements to this European stew.
Moqueca
Much lighter than a traditional European stew, Brazil showcases, Moqueca, a delicate fish stew. Coconut and lime flavor the stew with peppers and tomatoes, bringing in extra pops of flavor. Serve this stew with rice and fresh lime juice and enjoy.
Often overlooked, stews provide a hearty, delicious, one-dish meal. Whether you opt to eat it at home or to pack it to go, a stew is the perfect comfort (and healthy) meal. If you're longing for some savory stews, reach out to Chef Maggie today!