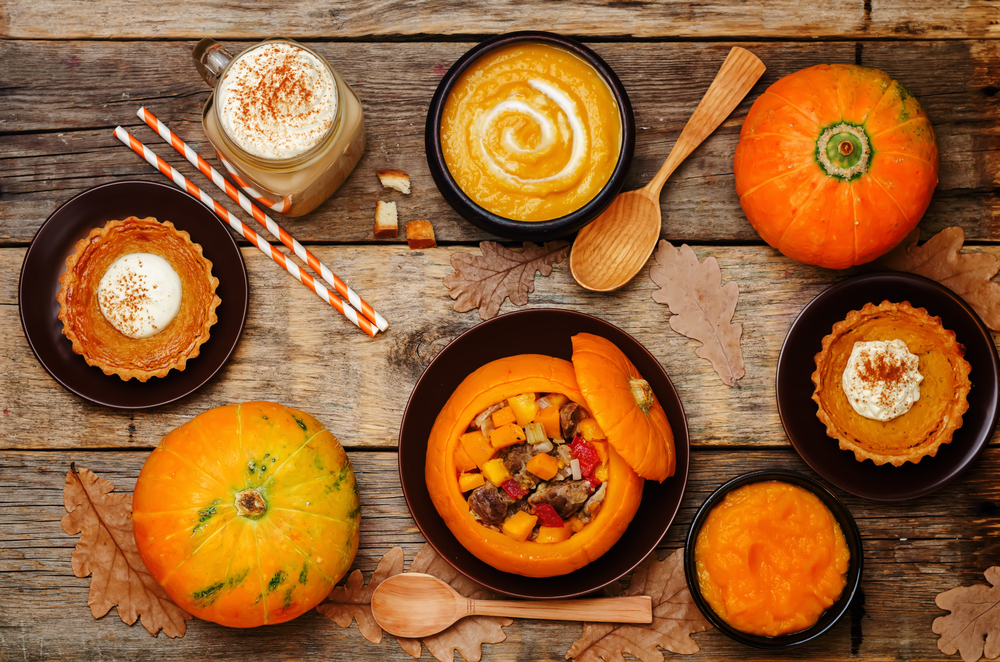 It's autumn, and that means that pumpkins are just about everywhere. More specifically, pumpkin flavored everything has become the annual fixation for people in the US. From pumpkin beer and coffee to pumpkin marshmallows and pumpkin sausages, it is hard to escape this tasty gourd during this season.
Thankfully, we don't want to escape the delicious, earthy, spicy, and aromatic flavor of everyone's favorite orange gourd!
Pumpkin is most definitely a superfood, and that means that it is loaded with fiber, vitamins, protein, and keep your eyesight sharp. Better still, instead of packing on those holiday pounds, eating a variety of healthy pumpkin dishes can actually aid in weight loss this holiday season.
If you are tired of the same old roasted pumpkin seeds and pumpkin pie (and yes, pumpkin spice lattes), then check out these must-try pumpkin dishes that will keep your love affair with pumpkin going all year long.
Pumpkin Smoothies
When in doubt, add pumpkin to your morning smoothie. Not only will pumpkin give your smoothies a rich, thick texture, but it will also add a natural sweetness and flavor profile that will have you gulping these smoothies down.
Pumpkin Oatmeal
Natural, whole grain oatmeal is teeming with healthy, low fat goodness, and it mixing just about anything into a bowl of hot oatmeal means making this already delicious food that much more scrumptious. The next time you prepare a fresh bowl of oatmeal, try adding a tablespoon or two of canned or pureed fresh pumpkin to the mix. Creamy goodness awaits!
Pumpkin Cream Cheese
When it's time to eat your breakfast bagel or toast, you can choose the old standard and go with plain cream cheese, or you can really kick it up a notch and add a bit of sugar and some pureed pumpkin to your spread. Smear pumpkin cream cheese on a cinnamon raisin bagel and thank us later!
Pumpkin Hummus
Yes, we said hummus! Adding pumpkin to your traditional chickpea and tahini hummus recipe makes it all the tastier for dipping your favorite veggies. Don't forget to top it off with some ground roasted pumpkin seeds and a pinch of paprika to create this perfect twist on everyone's favorite healthy dip.
Pumpkin Chili
Pumpkin has a nutty earthiness all its own, and that flavor combined with ground turkey, bell pepper, onions, and kidney beans makes pumpkin turkey chili a filling dish that will have everyone scrambling for seconds. Whether pureed, roasted, or chunky, pumpkin is a natural addition to your chili for those chilly winter nights ahead.
Pumpkin Ice Cream
Start with vanilla ice cream and add one cup of canned pumpkin puree and 1 teaspoon of pumpkin spice to it for a seasonal frozen treat. Just mix it together, then place the mix back in the freezer and serve when chilled. Sprinkle some cinnamon sugar roasted pecans on top and enjoy!
Apple-Pumpkin Butter
This perfectly fall season pairing is a no-brainer, and after you've tasted it, you'll be ready to whip up and jar enough of this butter to last you through the winter. Apple-Pumpkin butter can be made in a crock pot (hello, time saver!), and is as easy as adding pumpkin puree to applesauce with some tasty spices throw in for good measure. We promise, you'll never run out of things to put this on. Most of us just grab a spoon and go for it right out of the jar.