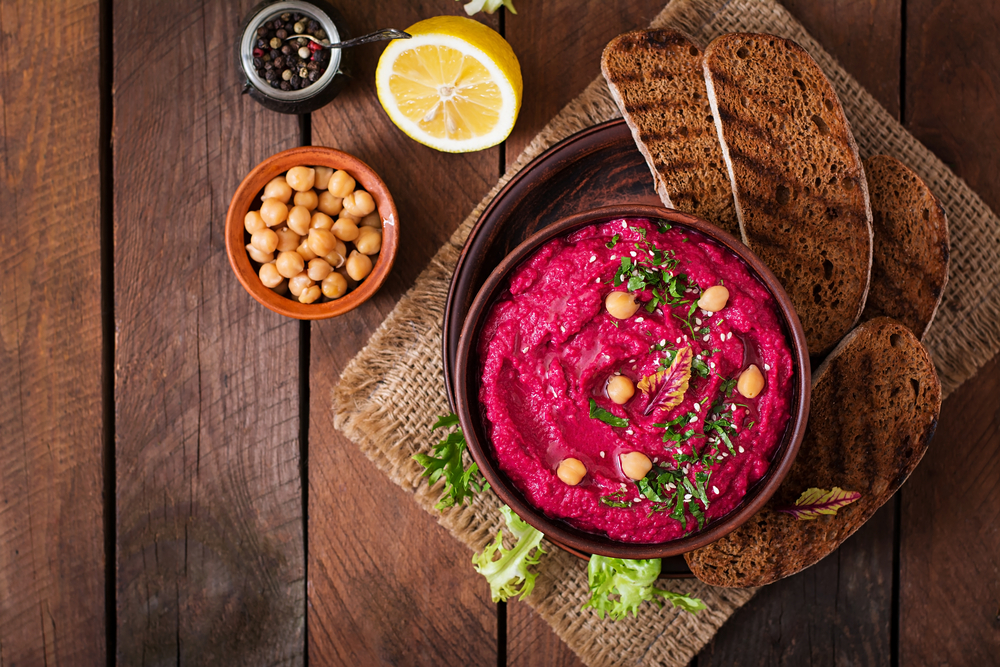 It is unbelievable how one tasty but relatively unknown Middle Eastern staple food has made its way from relative obscurity into the hearts and onto the plates of people all around the world. Hummus can be found in upscale dining establishments, on healthy menus across the globe, and on school lunch plates where tiny hands joyfully dip fresh vegetables into this creamy, dreamy, and all-around delicious and incredibly versatile dip.
Gone are the days of ranch dressing and ketchup were the only thing Americans would dip their food into. Thanks to the globalization of food (which has done as much good as it has ill), Americans are incorporating a seemingly endless variety of international food staples into their diets, and I for one could not be more excited about the addition of hummus to American grocery stores and meals.
The best thing about hummus is that it is not only perfectly perfect in its traditional form but also serves as a platform for some of the most inspired recipes that allow you to create the ideal hummus for your unique tastes and diet needs.
Before we discuss the assortment of hummus recipes you will have a fantastic time making and eating all year long, we must first discuss the basics of hummus, i.e., what makes it so darn good!
Traditional hummus is simple, and that's part of what drives people to experiment with their own recipes. To make hummus in the traditional fashion, you need exactly 7 items, most of which you already have in your pantry.
To make standard hummus, you need:
• Chickpeas (well-cooked or canned and drained), also called Garbanzo beans
• Tahini (sesame paste)
• Olive Oil
• Garlic (cloves peeled and dried)
• Cumin
• Lemon Juice
• Salt and Pepper
Positively loaded with healthy ingredients, and that is one of the primary reasons it is highly recommended in all types of diet plans. Chickpeas, the main ingredient, are a great source of protein and healthy carbs, and they have the added bonus of iron and manganese. Sesame paste is also protein-rich, and also provides you with calcium. Olive oil is a healthy fat that keeps your skin glowing, your hair shiny, and gives your weight loss efforts a boost. Garlic is incredibly healthful, delivering cold and infection-fighting allicin and allinase to your diet (garlic is also naturally anti-fungal, anti-virus, and antibacterial). Hummus is also a good way to maintain healthy blood sugar levels and ease digestion
To make basic hummus using the ingredients above, combine 2 cups of chickpeas, 1/2 cup of tahini (available at most grocery stores), 1/4 cup of olive oil, 3 cloves of garlic, juice from 1/2 a lemon, 1 teaspoon of cumin, and salt and pepper to taste in a blender or food processor. Mix until creamy and smooth, and add water a tablespoon at a time to create the right creamy consistency. Store in an airtight container and top with a thin layer of olive oil and enjoy!
Now that you've got the basics down, try these glorious variations to make your family and friends infinitely jealous of your inspired hummus creations. Most of these takes on hummus involve swapping the primary hummus ingredient, chickpeas, for another, so if you're not a fan of chickpeas, these are the hummus recipes for you!
Red Lentil Hummus
Cooked red lentils, those protein-and-heart-healthy little beans are bursting with flavor, and make a plain old hummus sing, especially when you add some sautéed or caramelized onions to the mix.
Roasted Red Pepper Hummus
Instead of removing the chickpeas from this version, ditch the garlic and make a batch of smoky red pepper hummus.
Roasted Beet Hummus
Pink-purple in color and ready to be devoured, rich red beets add a whole other level of flavor to your hummus, and the look of this hummus cannot be beet (oh, the beet puns…).
Curried Spicy Sweet Potato Hummus
Because sweet potatoes and curry spices go together beautifully, and this recipe calls for keeping those chickpeas in and adding curry powder and cayenne pepper, as well as swapping the lemon juice for lime juice. Yum!
Carrot Hummus
This sweet and tangy hummus is perfectly paired with pita, veggies, and works incredibly well as a spread. Plus, all the added beta-carotene!
Cauliflower Hummus
Did you know that cauliflower is one of the most astonishingly versatile veggies around? You can make it into a soup, pizza crust, bagels, and yes (OH, YES!), hummus too.
Edamame Hummus
You know those scrumptious green peas you're served in Japanese restaurants at the start of your meal? They whip up into an unbelievable hummus that will make your friends beg you for the recipe.
Tomato Basil Hummus
Bring the fresh flavors of roasted tomatoes and bright basil to your hummus, and you just have to throw them into the traditional hummus recipe!
Fresh hummus can be stored in an air-tight container in your fridge and enjoyed for up to five days, but freeze it and it will last three months!