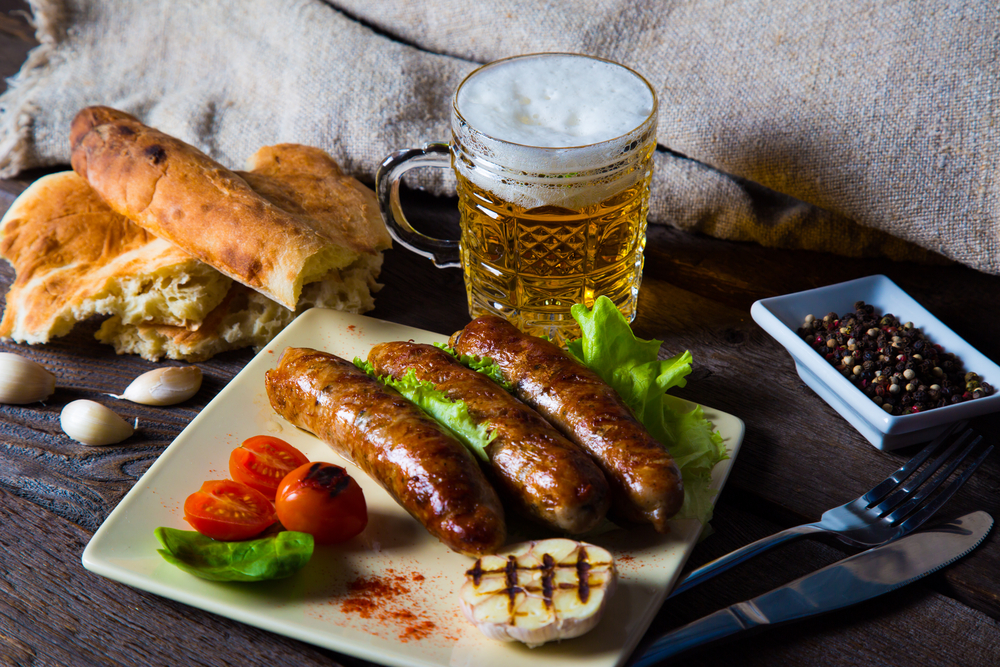 Fall is the perfect time of year to get outdoors, turn up the grill, invite your friends over, and spend time together enjoying the cool night air. The only thing that sounds better than that is finding the right beer to compliment the evening.
For far too long, wine has been the only beverage offered by restaurants to compliment the flavors of the meal being served, but in the past decade, as craft beers and microbreweries have come to dominate the landscape, people and restaurants are turning to an old favorite, beer, to help bring out best in food. Beer has come to be such a prominent menu pairing with food that restaurants are now employing beer sommeliers to help you choose the perfect pairing when you're dining out.
When you're looking forward to a fun evening at home with a great group of friends, you cannot go wrong with choosing food and drinks that pair well together and perfectly suit these end of summer nights that we're all enjoying.
Though wine has always been the go-to partner for food, beer actually offers a wider variety of complimentary flavors than wine does. Beer makers have long been experimenting with hundreds of flavor notes, from grapefruit to licorice, to create the right beer for every palate. Adding barley can improve the sweetness of a beer, for example, while spices like coriander add an unexpected heat to the brew.
There are two ways to pair ales with food. You can either serve a complementary beer that reflects similar notes of the meal, or you can serve a contrasting beer that plays against the flavors of the meal, just as sweet and sour flavors work together to create a symphony of flavor for you taste buds.
In much the same way that wine has light, medium, and heavy bodies, so too does beer. The goal of making these distinctions is to help guide you to pairing light beers with light dishes and heavy beers with heavy dishes. Some light beer types include pilsners and wheat beers, while heavy beers include porters and stouts.
Beers can also be into seven flavor types.
• Crisp - light and generally offer clean flavors that wash over the tongue. Crisp beers will usually have notes of fruit, malt, or hops
• Malt – medium to heavy, malts are sweet and have notes of caramel, nuts, or toffee
• Roast – heavy dark brews with dark fruit flavors like prune and raspberries, as well as chocolate flavors
• Fruit and Spice – light and full of bright and dark fruits like apple or fig. Spice has notes of cinnamon, nutmeg, or clove
• Hop – slightly bitter and light, hops have notes of caramel and earthy notes of wood and grass or sometimes herbs
• Tart – light and crisp body (can be dark or light) with fruity aromatics such as lemon and orange
• Smoke – medium to heavy bodies with woody flavors and rich fruits like raisins
To break down beer pairings by dish, here are some main dish components and their perfectly paired beers to give you a good idea of how to them with some common foods for perfect complementary flavors:
• Crisp beers go with light and spicy meals like fish tacos, salads, and sushi
• Malt beers go with dishes like rice and beans or a grilled white fish
• Roast beers go well with grilled pork chops and barbecue flavors
• Fruit and Spice beers would be the perfect pair with grilled pizzas, paella, or roasted chicken
• Hops are excellent with burgers and fries, as well as hard cheeses
• Tart beer can be used to cut the gaminess of duck or venison, or paired with desserts like a fruit tartlet
• Smoke beers are the perfect complement to sausages