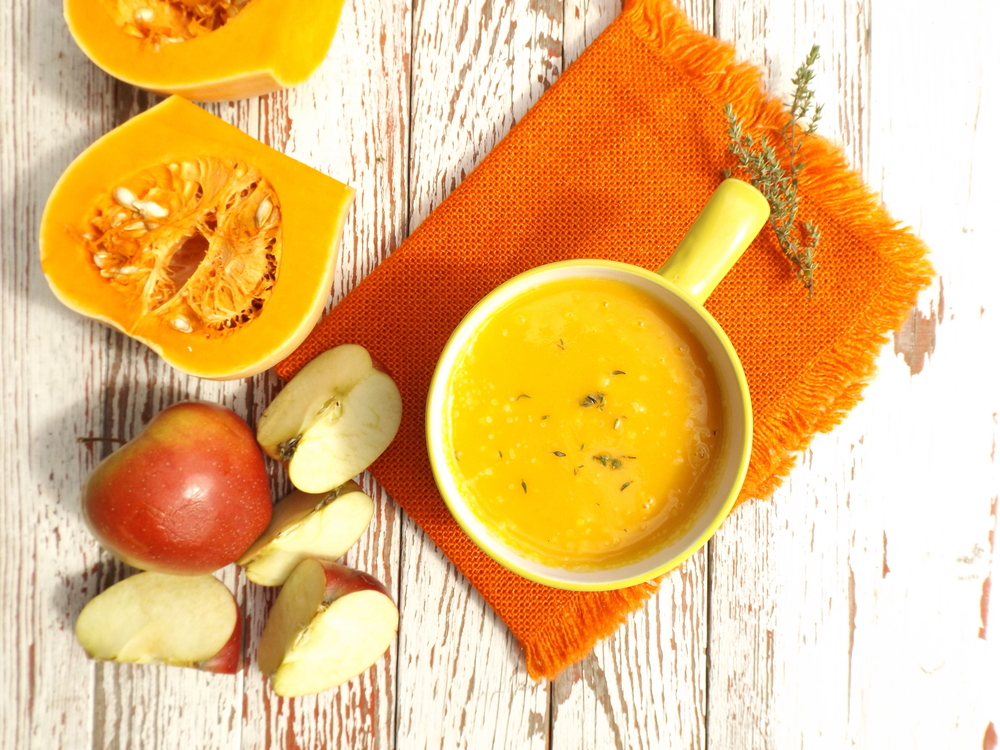 A new season is always a good reason to celebrate, even in Tucson where the temperature might not change much. But that shouldn't stop you from bringing the flavors of autumn to your home, table, and life with a dinner party celebrating the season's premium produce.
Build your menu around produce that comes into season around fall to add to the overall feeling of the season to the plate, decor, and food style.
Apples
This bright fruit often takes center stage when it comes to autumn-themed anything - and for a good reason. When selecting your apples, consider what you plan to use them for as you choose. Tart apples are perfect for pies while richer apples are the right match for a pumpkin-based soup or bread. Personally, having an apple-themed spread that plays on both the sweetness and the tartness of apple varieties is always a great autumn-themed party idea.
For decorating fun, apples can double as candle holders in an adult play on apple bobbing. Simply carve out a cylindrical hole large enough to fit tea light and float the apples in a bowl of water.
Brussels Sprouts
This hardy vegetable gets a bad rap, but it can be served in many delicious ways. Whether you want your party to have a sweet vegetable or a savory one, Brussels sprouts are the perfect Autumn vegetable. After all, you know Brussels sprouts are amazing. It's time to share their magic with your party guests, too. Go back and check out my blog dedicated to this delicious veggie!
Butternut Squash
Save the pumpkins for decorating and go right for pumpkin's cousin, butternut squash for the food. Super versatile, this squash can be a part of your appetizer, main dish, and dessert. Butternut squash can be the perfect stand-in for a vegetarian chili or bake it with some raisins and cinnamon for a delectable dessert. Best of all, butternut squash can be stuffed, grilled, sauteed, baked, or served up in a perfectly-seasonal soup - there's no end to the versatility of this beautiful vegetable.
Mushrooms
Sometimes these fungi suffer disparaging remarks from kids and adults alike, but mushrooms can make a mean grilled kabob or a more sophisticated risotto. Sometimes the mushroom caps can make an amazing little slider, too, and we promise that no baby portobello mushroom sliders or stuffed mushrooms will go uneaten at your party.
Self-Serve Food Bars
Once your food theme has been set into place, consider ways to think outside of the plate by incorporating a DIY Food Bar into the evening. Sometimes the easiest way to serve a group of people, a bar of food allows guests to help themselves to a bit of everything on the menu. Although simpler than a sit-down dinner party, food bars can be super fun as well and give your guests the perfect opportunity to mingle throughout the party as they much on some great food.
Chili Bar
Another way to make an autumn-themed party easy and much-appreciated is to have a chili bar. With so many variations on chili available, you can hit everyone's dietary needs while serving up some amazing but filling options. Like an at-home chili cook-off (minus the competition), a chili bar can allow guests to sample a wide variety of chilis and discover their new favorite. Don't forget to lay out well-loved garnishes, such as herbs, sour cream, and cheeses.
Caramel Apple Bar
Create a fun experience for guests by laying out ingredients so everyone can personalize their own caramel apple. If nut allergies are present, you can leave the nuts out completely. Include goodies like mini marshmallows, dipping chocolate, coconut shavings, toffee pieces, graham cracker crumbs, and whatever else might catch your fancy. You can even have guests make their own caramel apples as they enter and unveil all the masterpieces later in the evening for dessert.
Iced Hot Chocolate Bar
In toasty Tuscon, a hot chocolate bar might not be an ideal way to survive the still-hot temperatures of fall. However, a frozen hot chocolate can taste like fall while keeping you cool. The iced hot chocolate can be prepared beforehand and served from a thermos for extra seasonal flair. Offer guests a selection of personalization options with homemade marshmallows, caramel, sprinkles, whipped cream, flavor syrups, and cookie bits. You can also make hot chocolate-flavored items that provide all the flavor of hot chocolate without the hot mug. Hot chocolate marshmallows, brownies, homemade ice cream or ice pops, truffles, cupcakes, or frozen hot chocolate shooters with whipped cream will all be gobbled up in no time.
As with menu planning for any dinner party, check on the dietary restrictions of all your guests beforehand so you can make an all-inclusive menu that everyone can enjoy!