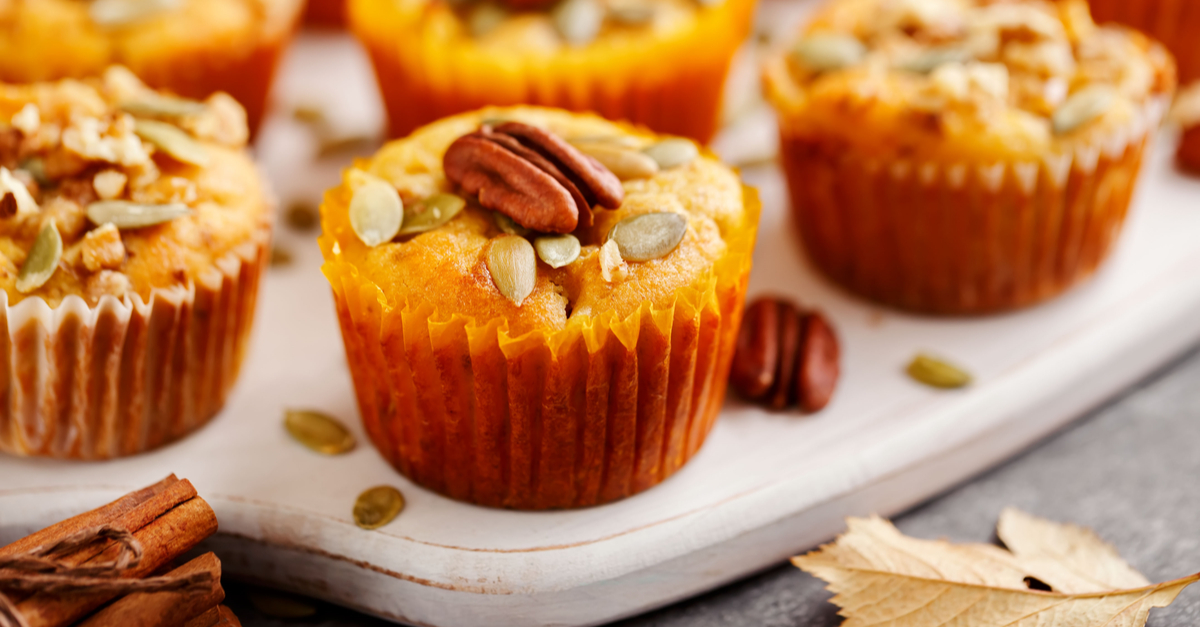 It's the season for pumpkin spice, but between the pumpkin lattes and pumpkin cakes, you might be wondering: What pumpkin snacks can I eat that are healthy? I absolutely love the flavor of pumpkin but, unfortunately, many of the delicious treats you see this time of year are loaded with sugar and artificial flavors, turning an otherwise wholesome squash into an unhealthy snack.
Fortunately, pumpkin in and of itself is a very healthy ingredient that can be used to spice up your everyday recipes to give them a fun fall twist. Here are 5 healthy pumpkin snacks you'll love this fall season.
Pumpkin Muffins
It's so easy to add pumpkin puree to your standard muffin recipe in order to create a delicious, healthy fall treat. Throw in some oats for a little added boost, or add some chocolate chips to make this muffin dessert-worthy.
If you have any dietary restrictions, you can make a deliciously moist gluten-free, dairy-free, vegan pumpkin muffin by removing the flour and just using pumpkin puree, coconut sugar, coconut oil, a flax egg, maple syrup, and vanilla extract.
Pumpkin Bars
Pumpkin bars are a delicious dessert, but they can be transformed into a healthy snack with just a few modifications. Swap whole-fat milk for almond milk if you have dietary restrictions and add oats to give the bars texture and protein.
These bars are great for children's snacks or on-the-go parents. No one would ever guess it was a health food!
Healthy Pumpkin Bread
If you love pumpkin bread, you can make a healthy alternative by using organic pumpkin puree instead of artificial flavors. Try swapping out butter for olive or coconut oil and use honey as a sweetener instead of sugar, like in this yummy recipe.
Pumpkin bread is a great breakfast food that the whole family will love in the fall! You can also experiment with adding chocolate chips for a sweet twist.
Pumpkin Smoothie
For those of us who love a good smoothie in the morning, pumpkin can help you take your breakfast to the next level. Pumpkin is a natural source of vitamin C, fiber, and potassium, so try swapping out the banana for a quick change of pace. You can add your favorite additional fruits and veggies, like kale or spinach, and still get that autumn vibe.
If necessary you can use pumpkin puree in a pinch, but nothing beats the taste of fresh pumpkin. You can even save the seeds to bake for later!
Pumpkin Energy Bites
These no-bake bites are great for breakfast or a snack! Add pumpkin to your standard energy bites or use this recipe for a fun fall flavor with all the benefits of your typical wholesome snack. The added cinnamon boosts the metabolism while dark chocolate chunks provide a dose of antioxidants.
If you're trying to be healthy this fall, you can take advantage of the season's best ingredient by incorporating it into your favorite snacks! The whole family can enjoy these delicious pumpkin twists on tried-and-true healthy favorites.