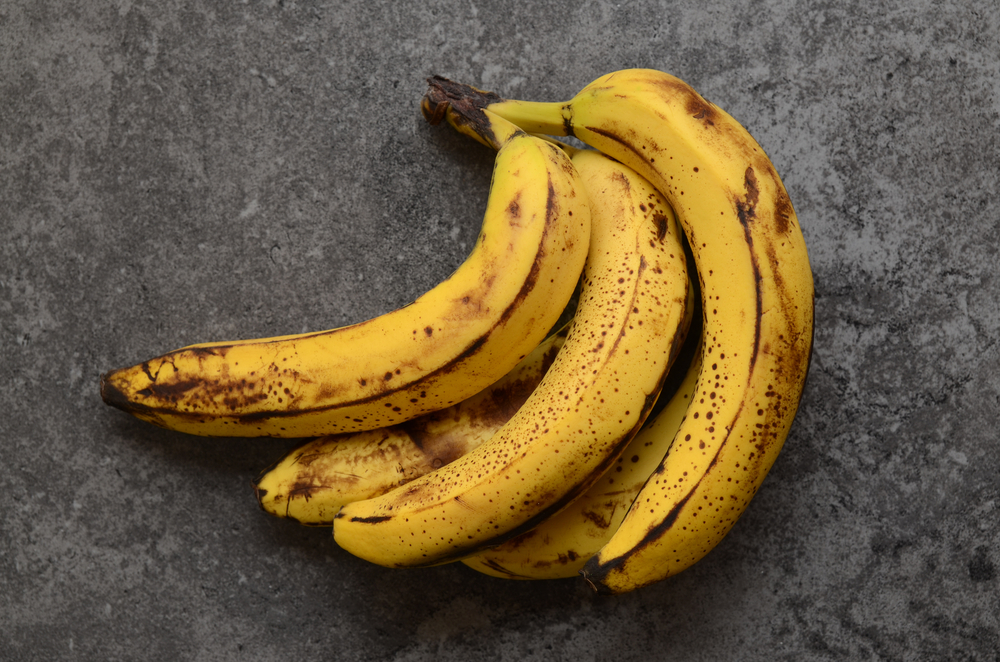 Bananas are a favorite fruit in households around the world. They are self-contained in a neat little package, soft but firm, and can be used to sweeten up just about any dish they are added to. These versatile yellow tropical beauties (of which there are more than 500 varieties, by the way) are quite often happily consumed by children and adults alike, which makes them the ideal candidate to add to countless recipes that will put a smile on anyone's face.
One of the saddest things about bananas is how quickly they go from green and unripe to brown, spotty, and mushy as they hang over our fruit bowls. Sometimes it seems like even if you eat bananas on a daily basis there's always one or two of them that have moved to the overripe side, making them incredibly sweet but difficult to eat as-is.
In this browned, overripe state, bananas, not unlike caterpillars transforming into butterflies, bananas become something truly spectacular in their second stage of life. Beyond a tasty and healthy snack, overripe bananas create incredibly flavorful and super-sweet main dishes, sides, desserts, and breakfasts.
Here are 20 great ways to use up those overripe bananas. Seriously, these recipes are so good that they'll make you want to buy bananas just to let them brown.
Banana-Battered French Toast
The next time you whip up a batch of French toast, add a smashed overripe banana to the egg dip.
Banana Bread Waffles
All the delicious moistness of a banana bread… but hot off the waffle griddle. SO GOOD!
Banana Cream Pudding
A classic dessert, banana cream pudding can be served stand-alone or in a pie topped with whipped cream.
Bananas Foster Croissants
1. Make bananas foster. 2. Make croissants. 3. Split croissants and stuff with bananas foster. 4. Cry when it's gone and then make more.
Banana Upside Down Cake
Just like a banana upside down cake has all the juices and sweetness soaking at the bottom, so does this banana upside down cake with grilled or sautéed bananas.
Banana Zucchini Muffins
Two delicious healthy foods tucked into a neat breakfast package – who could ask for more?
Banana Fritters
Top with a sprinkle of powdered sugar and watch your family's face light up.
Banana Bread Cheesecake
Did you know that you can add a center line or swirl of cheesecake into your banana bread? You can, so do.
Banana Crockpot Oatmeal
You need to eat more oatmeal anyway. Add some brown bananas to the slow cooker recipe for a sweet upgrade.
Banana Crème Brûlée
Crème brûlée burns because of the sugar sprinkled on top. Swap that sugar with bananas and a splash of bourbon and you'll add another layer of flambe'd amazingness to this delectable dessert.
Banana "Ice Cream"
Throw frozen overripe banana chunks into your blender with a bit of milk and enjoy a guilt-free ice cream alternative.
Banana Bread Pudding
You can either make and use banana bread for your bread pudding recipe or just add bananas to regular bread and enjoy the mmm…
Banana S'mores
Grilled bananas + graham crackers + chocolate + marshmallows = there are no words for how amazing this is.
Banana, Peanut Butter, and Bacon Panini
Elvis was good at a lot of things, including making one of the most drool-worthy sandwiches around.
Banana Sticky Buns
Use a traditional sticky buns recipe, but spread in a layer of mashed caramelized bananas.
Banana (+ Anything) Pancakes
Bananas and pancakes are a no-brainer, but another fruit like strawberries, blueberries, shredded zucchini, or chocolate chips and you'll never want breakfast to end.
Banana Fudge Bars
Bananas can be made into wonderful fudge bars that will make you toss out your lemon bar recipe for good.
Banana Smoothies
Looking to cram a whole meal's worth of vegetables and protein into one sweet morning smoothie? Add one overripe banana.
Banana and Oatmeal Cookies
Oatmeal and bananas, that dynamic duo, come together to make one spectacular cookie.
Banana Eclairs
A banana cream filling piped into delicate and delicious eclairs will make you rethink vanilla cream altogether.